Heat & Cool your place with the best.
Samsung's residential solutions for your home.
What is Ductless?
No ducts mean no worries. A ductless mini split air conditioner and heat pump is a simple way to cool and heat your home without the ductwork you'd find in a traditional system. Usually, a ductless setup consists of a wall-mounted indoor unit connected to a compressor located outside the home.
Comfort without compromise.
Energy efficiency is one of the most important benefits homeowners are looking for in a heating and cooling system because greater efficiency means lower utility bills. When researching a new system, the first detail to look for is the SEER rating.
SEER stands for Seasonal Energy Efficiency Ratio, and it's a way of rating the maximum efficiency of an air conditioning unit. The higher the SEER rating, the more efficient it is, but the type of system can also make a difference.
Seasonal
Energy
Efficiency
Ratio
Innovation is in the air.
Most HVAC companies maintain the status quo, Samsung never will. We're bringing progressive thinking to Residential HVAC.
There's no place like your home. We offer a wide range of residential products to meet the needs of almost any project.
Our new residential mini splits have been upgraded to perform even more amazingly. The all-new Wind-Free™* 2.0 and Quantum 2.0 have been reimagined and redesigned to deliver exactly what homeowners want.

Available Capacities (Btu/h) 9K / 12K / 18K / 24K
The best just got better.
At Samsung, we always strive to deliver the best in heating and cooling. For that reason, our new Wind-Free™* 2.0 has been upgraded to perform even more amazingly.
Features
Eliminates Cold Drafts
Total Control
Seamless Operation
Improved Serviceability
High Performance
Worry-Free Installation
Free Joint Multi

Available Capacities (Btu/h) 18K / 24K / 36K / 48K
Multiple choice.
This multi-zone residential and light commercial system offers three different indoor units to choose from and multiple control options. With minimal installation space, it's a flexible option for homes or offices with many rooms.
The Free Joint Multi (FJM) unit supports 2 to 5 indoor units for multi-zone control with one outdoor unit.
Features
Ultimate Zoning Solution
Total Control
Flexible Installation
High Performance
Easy Installation
Quiet Operation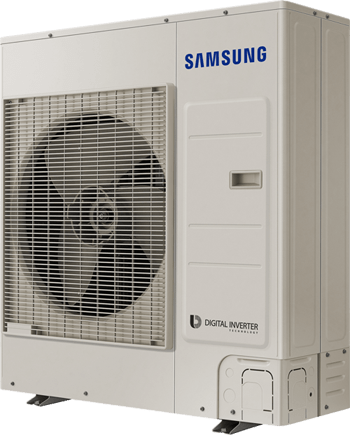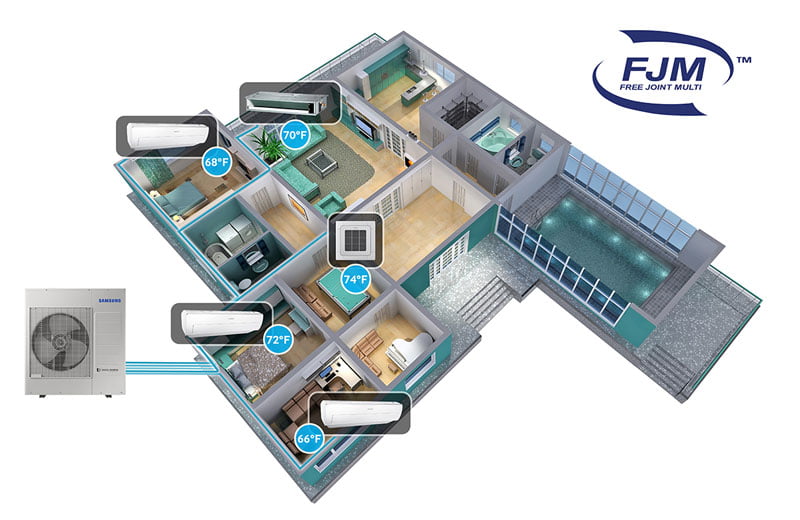 Whole Home Solution
By connecting multiple indoor units to a single outdoor unit, Samsung multi-zone systems provide a flexible, whole home solution, that a conventional system simply can't rival. Instead of setting one temperature for the entire house, zoning a home with a multi-zone system allows you to control the areas where you spend the most time and turn off other to save energy.